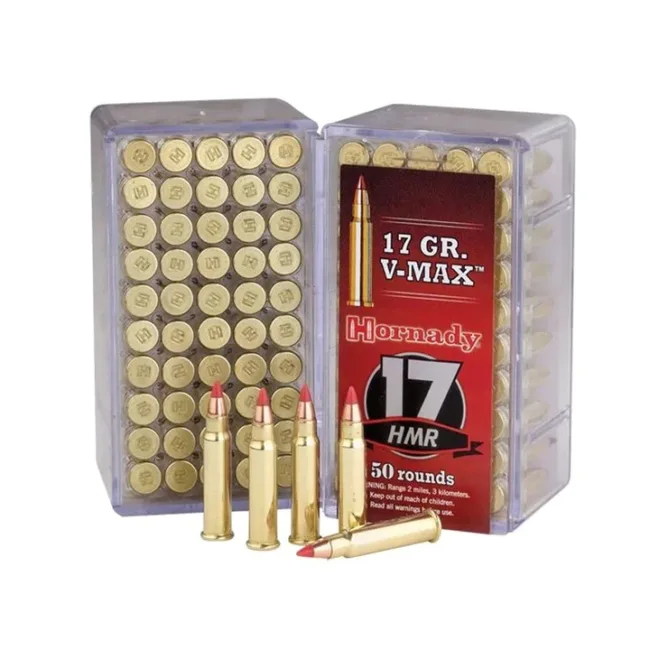 Hornady .17 HMR 17gr V-MAX
€24.95
50rds per box
Hornady .17 HMR 17gr V-Max Bullets – Tack-driving accuracy and dramatic expansion on impact
From prairie dogs to coyote and fox, the Hornady® Rimfire line of ammunition offers varmint hunters high-speed rimfire cartridges. Loaded with either the V-MAX® or NTX® bullet, these loads deliver tack-driving accuracy and dramatic expansion on impact.
Hornady .17 HMR 17gr V-Max Bullets – Product Features
HARD-HITTING V-MAX® TECHNOLOGY
The polymer tip of a V-MAX® bullet delivers more than tack-driving accuracy at long range – it also creates dramatic expansion on impact.
HONEST 200-YARD PERFORMANCE
The flat trajectory delivered by the 17 HMR® makes it the most accurate long-range rimfire ever made.
SELECT BRASS
The uniformity of the Hornady® 17 HMR® case is equaled only by ultra-expensive match ammo, and case geometry helps provide this new cartridge's unequaled performance!
PROPELLANT
The powerful new propellants available today make the 17 HMR® the most accurate, hardest-hitting rimfire cartridge available.
9 in stock
Additional information
| | |
| --- | --- |
| Type | V-MAX |
| Caliber | .17 HMR |
| Grain | 17gr |
Only logged in customers who have purchased this product may leave a review.