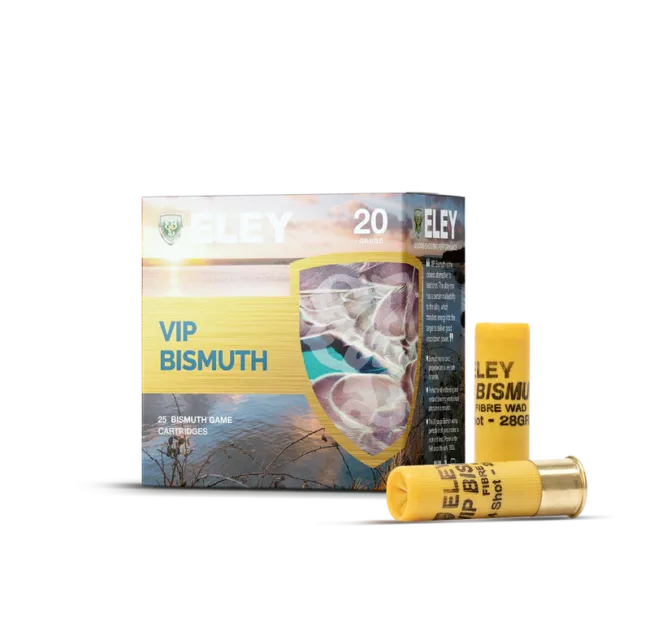 Eley Vip Bismuth 20G
€53.00 – €525.00
25rd's per Box / 250rd's per slab.
Eley Hawk's VIP Bismuth cartridge is perfect for all wildfowling and wetland shooting, offering almost identical performance qualities to lead. 
This lead alternative works perfectly in all guns proofed to work with lead, and has been proven to be effective in the field since the early 1990s. The unique formulation of the bismuth alloy has many properties similar to lead in terms of density and hardness. The alloy mix also ensures there is a certain malleability, which in turn transfers energy into the target to deliver good knockdown power. Bismuth has no toxic properties and is very safe to handle.
VIP Bismuth cartridges are an ideal option for mixed-bag pheasant and duck days, all the while using your favourite old English gun. If you only occasionally go wildfowling, they represent a cost-effective solution to investing in a new steel-proofed gun.
"A number of drives produced superlative birds. The bismuth loads killed cleanly and consistently – by midmorning everybody had completely forgotten that they were using a lead alternative." ~ Robin Scott, Sporting Gun
Ammunition can only be supplied to the named holder of a valid firearms licence and strictly in accordance with the provisions of the Firearms Acts 1925-1990 and any Regulations pertaining thereto.
After completing purchase in the usual way, please email both sides of your Firearms licence to cent[email protected] or WhatsApp a photo to us on 0863190730.
We can only deliver ammunition to the address on your firearms licence. We cannot supply more ammunition than stated on your licence.
Only the calibre of ammunition specified on the licence can be supplied.
Additional information
| | |
| --- | --- |
| Type | Vip Bismuth |
| Caliber | 20G |
| Gram | 28g |
| Shot size | 5 |
| Wad | Fibre |
| Length | 70mm (2 3/4) |
Only logged in customers who have purchased this product may leave a review.