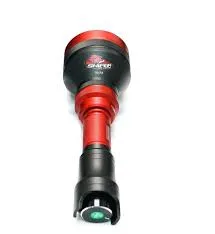 Sniper Hog Lights | 66LRX Flashlight
€190.00
This package comes with
1 – 66LRX Flashlight (This is the exact same light as our 66LRX Rifle light but it doesn't come with the remote wired Eliminator switch)
1 – Normal flashlight tail cap
1 – White LED module  
1 – Lens cover to protect the lens when not in use.
18650 Batteries and charger not included but you can add them in the options above along with the Predator Pro Mount, Dimmer tail cap, Case and light handle also Extra Leds
Please click here to see how far each colour shines
Features
Adjustable focus so you can go from a flood beam all the way to a spot beam.
Fast focus, Focus from full flood beam to full spot beam in only 3/4 of a turn of the head.
Interchangeable LED modules so you can change the color of your light.
Fully interchangeable with our 38LRX and 50LRX lights so you can easily convert your 66LRX light to our 38LRX or 50LRX by buying the 38LRX or 50LRX head.
Please note that the 940nm IR will not shine as far as the 850nm IR but the RED glow when you look directly at the LED of the 940nm IR is much less then the glow from 850nm IR. We believe that you have less chance of spooking game with the 940nm IR because the glow is less and this is what we believe the animals see that cause them to spook. With that said, it's unusual for a animal to spook at the IR 850nm.
This is simply the furthest throwing LED flashlight on the market for it's size.
Techinical Specs
Made out of Aircraft grade aluminum and hard anodized to resist scratching.
Weighs about 14 ounces with battery
About 2.75 inches across the head with a 1 inch tube.
About 6.75 inches long when in full flood beam and 7.25 inches long in spot beam.
Distance Yards Red = 720, Green = 1477, White = 1300
Run times: Red, Green and white = 2 hours at full power with very little dimming over that 2 hours and then another 30 minutes with the light dimming over that last 30 minutes. IR = 1 hours at full power with very little dimming and then another 1.5 hours with the light slowly dimming over that time.

Please note that basically non of our competitors will tell how much their lights dim during the run time they list. They will only tell you the total run time. WE have tested most of our top competitors lights and all of them dim more to way more then our lights. In fact we just tested one of our competitors lights that claim a 1 hour and 50 minute run time but after just 30 minutes of running, it dimmed over 200 yards while our light only dimmed 6 yards and after 1 hour and 7 minutes their light dimmed over 400 yards and our light actually shined 7 yards further then when it started. We test all our lights with a light meter so these are facts not guesses.
1 in stock
Only logged in customers who have purchased this product may leave a review.